Managing Rape Cases
Despite the political progress since 1994, South Africa is struggling to combat high levels of sexual violence. The country continues to report one of the highest rates of rape in the world. In 2000, South Africa launched a comprehensive strategy that includes prevention, prosecution, and victim assistance (e.g., access to justice, care, and treatment). This effort led to legislative and policy developments such as the Sexual Offenses Act and subsequent Amendment Act; the Children's Act, and the Department of Health's (DoH's) National Management Guidelines for Sexual Assault Care); the establishment of specialized Sexual Offenses courts; training of prosecutors, police, and magistrates; and the introduction and roll-out of Thuthuzela Care Centers (TCCs) at public hospitals.
This project is helping to scale-up and ensure the sustainability of TCCs. RTI assists South Africa's Sexual Offenses and Community Affairs (SOCA) unit, within the National Prosecuting Authority (NPA), in its national scale-up of the Thuthuzela Care Center Program. This program provides an integrated one-stop model for combating sexual violence against women and youth, a prevalent problem across South Africa. TCCs require an integrated system to manage the care of rape survivors and to identify and increase the conviction rates of perpetrators.
Solution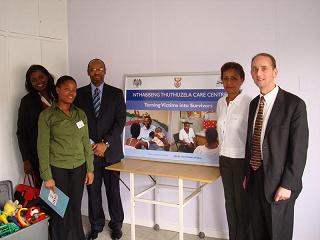 As part of the Women's Justice Empowerment Initiative (WJEI) project in South Africa, RTI is working with the SOCA unit of the NPA to build a case management system. The Thuthuzela Information Management System (TIMS) will be used to manage the legal, medical, and psycho-social cases at the TCC's. The TCC network is a pioneering effort to better protect the rights of women and children by providing critical assistance to victims of sexual violence and abuse through the justice system.
The first version of the TIMS software was based on Zcore. RTI later rewrote the software using Microsoft .NET technologies to increase sustainability, and compatibility with the NPA's existing technology platform and technical skills base. TIMS combines medical data, psycho-social information, and legal case information on survivors. The TIMS design is also based on an existing monitoring and evaluation (M&E) system used throughout the Southern Hemisphere, and it complies with the South African national protocol for post-exposure prophylaxis (PEP) treatment to prevent HIV/AIDS.
TIMS is:
Easy to use: Data entry into a web browser
Familiar: Similar to using Google – but deeper. Search for patient, perpetrator. View detailed patient records
Networked: Connects to the secure SOCA computer network, and can be used by multiple computers at same TCC.
Secure: Login with a username/password; data transfer encrypted
How is TIMS Used?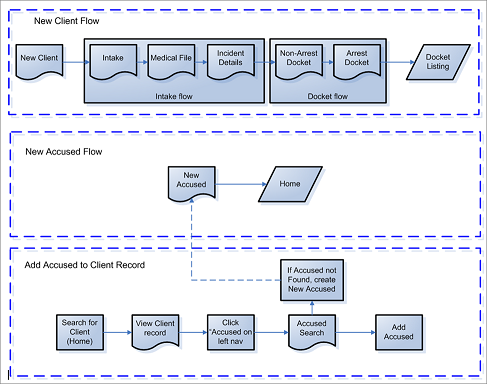 The first time a rape survivor enters the TCC to lodge her case, the TCC staff provide care to the survivor and record details of the rape and other demographic information into TIMS.
During follow up consultations, TCC staff members fill out the appropriate follow-up forms:
Victims Assistance Officer (VAO) Checklist forms
Docket forms
Court preparation
Prosecutor consultations
Case Report Request
Witness statements
The Docket Progress Record enables the user to record information relating to the progress of the court case. Types of forms: Arrest and Non-arrest (including first appearance), Court Appearances, Finalization (including sentencing).
Records requests for reports pertaining to the rape survivor's case such as Mentally disabled assessment report, Competency report, Intermediary report, Victim impact assessment, Diversion, DNA. Also records pending date and date of receipt.
TCC staff use the PEP Tracking list to contact clients on a weekly basis until their PEP dosage is complete. The system provides a list of clients for whom there is not a record of contact for the week.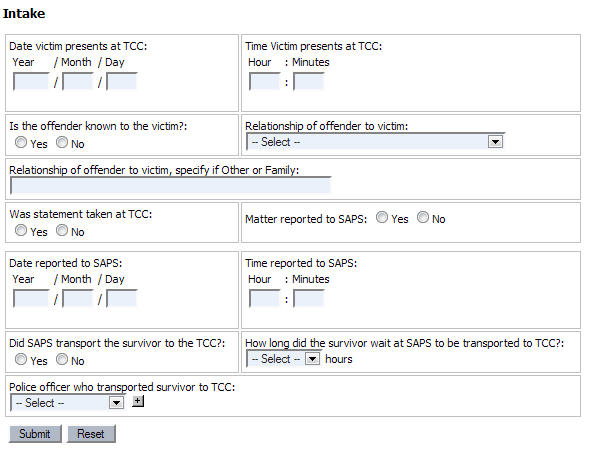 Users have access to many different reports, including the following health care and case management reports:
Health Care Reports
Number of Assisted Victims
Patient Totals by Age and Gender
Number of Survivors Receiving Out-Care Services
Number of Survivors that Received PEP
PEP Treatment
Number of Individuals Provided with HIV-Related Care (Including TB/HIV)
Number of Individuals Provided with HIV-Related Care (Simplified)
Number of Survivors Who Tested for HIV and Received Results
Total Number of External Referrals
Case Management Reports
Upcoming Appointments
Number of Cases per Month
Number of Reported Cases
Number of Victims that have Undergone Court Preparation
Stakeholder Coordination
Case Manager Report
More Information