Disease Surveillance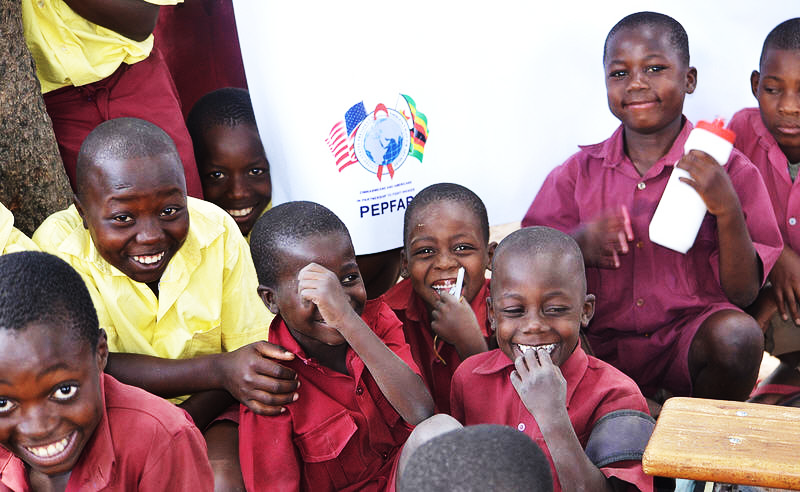 In 2010 Zimbabwe's weekly disease surveillance system (WDSS) previously known as the rapid disease notification system (RDNS), once one of the best in the region, struggled with incomplete and delayed reporting. Rural health facilities had difficulty communicating reports to their District Health Offices due to lack of radios, phones, or internet connectivity. Only 11% of those health facilities had functional radios.
SOLUTION
The RTI International ZimHISP project worked with the Zimbabwe Ministry of Health and Child Care (MOHCC) to implement a solution that integrated several systems, including FrontlineSMS, known as the WDSS. Using a nationwide, mobile phone-based system, ZimHISP collects and reports disease notifications from health facilities into a centralized repository for national health information, DHIS. Rather than sending information to the MOHCC through a series of district and regional offices, the reports go straight to the national level. From there, the lower offices can access data.
By 2012, RTI International's ZimHISP support enabled the MOHCC to reach 1,278 facilities from just 749. The system helped to detect a typhoid outbreak in Mashonaland Central and Harare, as well as a cholera outbreak in Chiredzi. Technology such as FrontlineSMS increases the country's responsiveness and ability to track and avert epidemics. By December 2014 the system had been implemented at 1,588 of the 1,600 health facilities across the country.
As a result of the implementation of the mobile WDSS and Early Infant Diagnosis (EID) systems, WDSS reporting has vastly improved from around 40% in 2010 to above 90% every week in 2014. After implementing the mobile EID system the observed turnaround time has been reduced from a median of 90 days to a median of 57 days in August 2014. The outstanding delays are related to work back log at the National Microbiology Reference Laboratory and sample transportation bottle necks.
In 2010, DHIS version 1.4 was rolled-out to all districts in Zimbabwe. The MOHCC is working closely with the U.S. Centers for Disease Control and Prevention (CDC) in Zimbabwe to produce the most timely and complete data for disease surveillance. Weekly disease surveillance completeness and timeliness of reporting has also risen dramatically. The following chart shows the change in reporting completeness and timeliness over 2012 and 2013.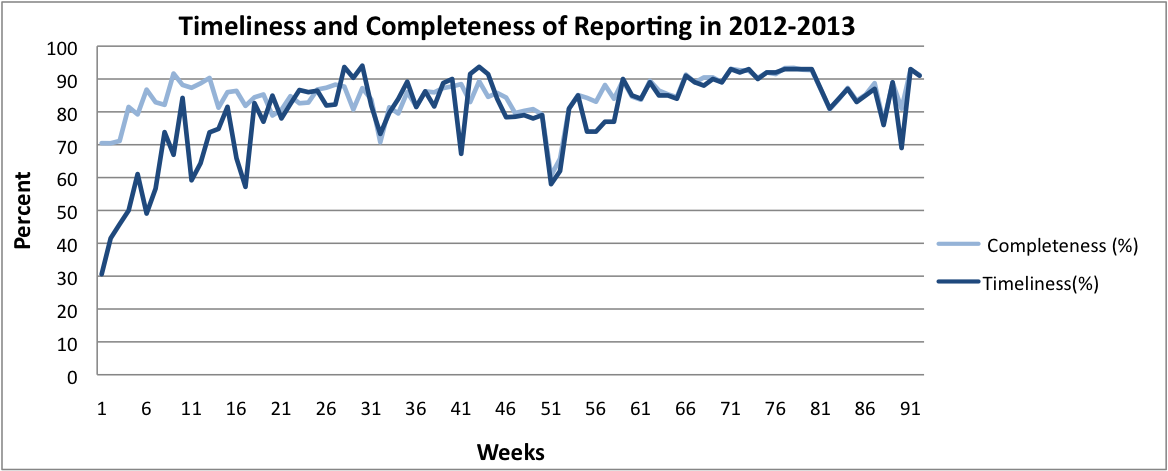 Weekly disease surveillance data are sent to a central FrontlineSMS server, where data are checked for quality and completeness. The data are then transferred automatically to a central DHIS2 server, where authorized health information officers can monitor the data. Authorized health information officers may also view data received from facilities that are not yet able to use FrontlineSMS.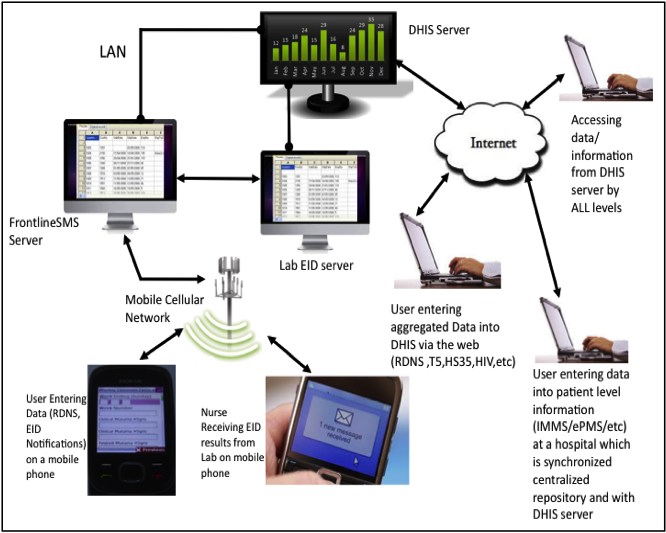 In the first quarter of 2013, DHIS2 was implemented in place of DHIS1.4, to allow direct data entry to a centralized server. DHIS 2 is an open source software, customizable for the users contextual needs. It is web-enabled, and can work offline incase internet connectivity is lost. DHIS2 is now used by over 1200 facilities in Zimbabwe. The implementation of DHIS2 now offers staff at provincial and national levels easy access to health data. In turn this has improved WDSS reporting rates.
PROJECT PARTNERS
The ZimHISP project, a cooperative agreement of the U.S. CDC, through funding from the President's Emergency Fund for AIDS Relief (PEPFAR), works with MOHCC to strengthen the routine health information system.
The project works in close collaboration with MOHCC and stakeholders and is implemented by RTI International with partners the Biomedical Research and Training Institute (BRTI) and Health Information Systems Programme – South Africa (HISP-SA).
RELATED TECHNOLOGIES AND INFORMATION
Frontline SMS
ZimHISP Mobile Data Collection
ZimHISP Training Guide