Zimbabwe Launches New Health Information System (HIS)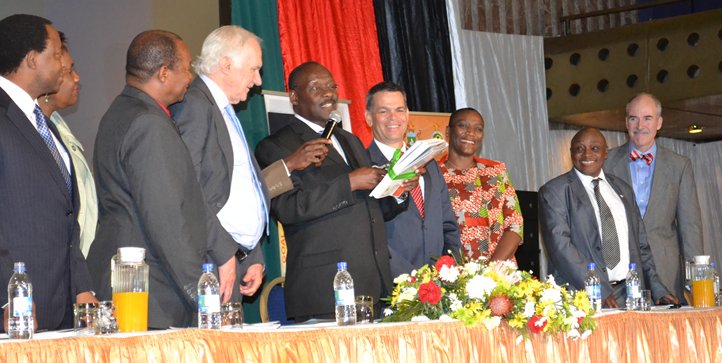 Zimbabwe: (From Left to Right) Dr. Gibson Mhlanga - Principal Director in the MoHCC; MoHCC official; Dr. Obadiah Moyo - Chief Executive Officer, Chitungwiza Central Hospital; Dr. Timothy Stamps - Health Adviser in the Office of the President and Cabinet - former Minister of Health; Dr. David Parirenyatwa – Minister of Health and Child Care; Ambassador Bruce Wharton - United States Ambassador to Zimbabwe; The Global Fund for AIDS, TB and Malaria Representative; The Zimbabwe National AIDS Council Representative; Dr. Peter Kilmarx- Country Representative CDC Zimbabwe.
By Fortunate Machingura, Gender Specialist, ZimHISP
On June 5, 2014, the Government of Zimbabwe's Ministry of Health and Child Care (MoHCC), and RTI International (RTI), supported by the U.S. Center for Disease Control and Prevention (CDC), officially launched the new Zimbabwe national Health Information System (HIS), DHIS2, and the MoHCC website. The occasion also marked the official launch of mobile health (mHealth) in Zimbabwe through the successful implementation of cell phone-based reporting of the and HIV results reporting for Early Infant Diagnosis (EID) in the Prevention of Mother to Child Transmission of HIV (PMTCT).
The multi-purpose event was a cutting edge historical mark in Zimbabwe's transition from using obsolete electronic systems in the collection and dissemination of health statistics to the use of faster and more modern web-based systems. The MoHCC had used a Microsoft Access-based data collection system to report routine program data since 1985. Due to an increase in reported elements the system became slow and less efficient. The country adopted District Health Information Software version 1.4 (DHIS1). The CDC-supported RTI-led ZimHISP (Zimbabwe Health Information and Support Project) worked jointly with the National Health information and Surveillance Unit (NHISU) in the MoHCC to support the local customization, training, and roll-out of DHIS1 in 2011 and 2012.
Following the successful roll-out of DHIS1, the ZimHISP project supported a pilot of the more efficient DHIS2 at the end of 2012. In 2013, ZimHISP, customized and successfully rolled out DHIS2 to all district health offices, city health departments, provincial health offices, and the MoHCC national head office. This software provided a new opportunity to integrate parallel or vertical information systems. To date Human Immunodeficiency Virus (HIV), tuberculosis (TB), psychiatric, and village health worker information systems have been integrated into DHIS2. The successful roll-out of this system has resulted in the availability of key overdue National Health Profile reports of 2009, 2010, 2011 and 2012; the Basic Services Trends Reports, and health profile Quarterly Monitoring Reports. Timeliness and completeness of health information has also improved.
DHIS2 has helped Zimbabwe to support collection and analysis of routine health services data. The software is also supporting the collection and manipulation of non-routine data, such as population estimates and facility workload. Routine data are collected using paper-based registers, tally sheets, and monthly data collation forms at each health facility. Collated monthly data are entered directly into the web-based DHIS2, or sent to the district level where they are entered into DHIS2 software and analyzed. The web-based DHIS2 is already capturing health facility service delivery data, facilitating analysis at that level and promoting data use at all levels for decision making in Zimbabwe.
The Zimbabwe Minister of Health also launched the mobile-phone-based FrontlineSMS Weekly Disease Surveillance System (WDSS), which has now been rolled out to more than 75% of health facilities nationwide. RTI supported the customization and training of this two-way mobile messaging system. User-friendly electronic forms enable facilities to easily transmit data via SMS text messaging to a central server that automatically forwards data to DHIS2. This makes current disease surveillance data accessible to district, regional, and national health officials for detecting potential disease outbreaks and evaluating public health policies. Prior to the deployment of this new system, the completeness and timeliness of reporting from the facilities were under 50%. With cell-phone-based reporting, completeness and timeliness were above 90% from participating facilities for most of 2012 and 2013.
The FrontlineSMS mobile-phone-based system is also being used to relay HIV Early Infant Diagnosis (EID) information between the health facilities and the Zimbabwe's National Microbiology Reference Laboratory (NMRL). Using this system, nurses have now been trained to notify the NMRL of EID samples collected in the field, and receive EID results on their mobile phones. A notification message is also sent to the infant caregiver to inform them on when to collect results from their health facility. This system, which is currently in 75% of facilities nationwide, allows for timely relay of results to facilities, and is increasing the treatment rates for babies. This system is also integrated into DHIS2, thereby allowing reporting of aggregate data.
These initiatives are set to improve service delivery through data-driven resource allocation and timely provision of scientific data for evidence based programming, particularly targeting HIV and TB.