WAH Stakeholders' Review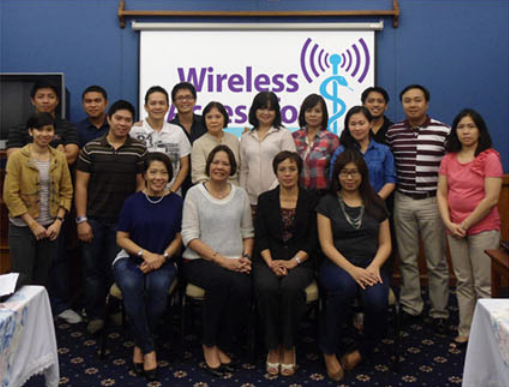 With 55 participants in attendance, the Wireless Access for Health team successfully held its 11th Stakeholders' Meeting last December 7, 2012 in Angeles City, Pampanga. Ms. Erin Gavin from Qualcomm Wireless Reach formally opened the meeting by congratulating WAH partners for getting the top prize in the Jesse Robredo e-Gov Awards. The proposal for partner Rural Health Units (RHUs) to contribute to the cost of continuously developing the WAH e-Health platform was the central topic of the discussions during the meeting.
The body unanimously approved the agreement that would have all RHUs in Tarlac allocate an investment contribution of P5,000.00 for 2013. This contribution will cover for the transition of the WAH from a network of partners to a service provider social enterprise by 2014. Other highlights of the event included recognizing RHU scorecards on e-reporting where Moncada RHU 2 emerged as the winner for the months of September and October. Smart Communications also gave away seven Smart Bro Wireless USB Dongle for deserving RHUs that recently finished Level 2 training during the last quarter of 2012. DOH-CHD 3 Director Leonita Gorgolong also presided over the consultation with RHU partners on Data Quality Check.
The Director pledged to support the goal of Tarlac to have its data regularity undergo DQC procedures with continous training and monitoring. Ms. Easter Dasmarinas, Deputy Chief of Party for USAID-HealthGov, closed the meeting by expressing her gratitude to the partners and congratulating the WAH team led by the Provincial Health Office for the project's continued success.
For more information about Wireless Access for Health and the WAH Gazette, click here. This article was republished with permission from the WAH Gazette.